Feedspot's Top Lupus Blog - so appreciative that Despite Lupus was included!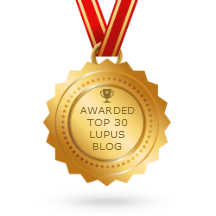 Wow - what an honor!
I'm thrilled to have been included in Feedspot's 2017 Top Lupus Blog list. Thanks so much to the editorial and expert review team for choosing to feature Despite Lupus in the line-up.
You can see the rest of the Top Lupus Blog list here.
My fellow awardees host some of the best health blogs on the internet, so it is with much gratitude that I accept the award. This blog is extremely therapeutic for me - and has been since I started writing in 2009 (yikes!). I'm so thankful for those who have stuck around to see how life, despite lupus is turning out.
As I continue to broaden the Despite Lupus community into other social media platforms (like my current favorite, Instagram!), I look forward to intermingling my traditional format with shorter, more concise posts (accompanied by an IG picture.) Who isn't a little time-conscious these days, right?
So keep an eye out for a new series of posts - aptly named "Lupus in 60" (#lupusin60). I'll keep my thoughts, quips and comments to a brief 60 second read...helping
me
to remember that living well with lupus doesn't have to be complicated. Sometimes, a simple reminder, short and sweet, may be just the thing to keep us on the track of living well, despite our illness!